GRP Fibreglass Flat Roof Specialists London & Surrey
Are you looking to upgrade your existing roof? Grp roofing systems, or fibreglass roofing as it is otherwise known, is one of the most popular flat roof solutions for domestic and commercial properties in the UK. The composite material is incredibly durable and simple to install, and our expert fibreglass flat roofing team at Asgard Roofing can help you transform your property.
With over two decades of experience, we can provide GRP/fibreglass flat roof systems and repairs to properties across Surrey and South London.
So if you want to discover the long-lasting and waterproofing benefits of a full GRP roof system, contact our experienced flat roofers today and find out how we can help you!
If you have a failed GRP/fibreglass flat roof, please see our GRP roof repairs page
What is GRP roofing?
Whether you are looking for a flat roof repair or want to upgrade your existing structure, fibreglass roofing is one of the most effective flat roofing solutions. GRP stands for Glass Reinforced Polyester, one of the easiest and safest roofing systems to install with no heat required.
As the leading GRP, fibreglass roof experts in Morden, Esher and across South London, our friendly team can shape the grp system to suit any flat roof design, providing complete weather protection.
Discover Everything You Wanted To Know About Fibreglass Flat Roofs
Do fibreglass roofs make a lot of noise? Well, to answer your question, yes, they can be noisy. Don't be alarmed, though. This is mainly due to thermal expansion and contraction, also known as thermal banging. You can prevent this by ensuring that every component is screwed to the insulation and glued.
Fibreglass roofs can last up to 40 years and come with guarantees, with some systems offering up to 40 years of protection.
If you're curious whether fibreglass material is suitable for flat roofs, then the answer is a resounding yes. Fibreglass roofing systems are often used for domestic and commercial flat roofs alike.
Cost-wise, fibreglass roofs' price can range from around £70 per sqm for basic rear roofs without insulation to around £140 per sqm for warm deck roofs.
How does a GRP flat roof system compare to other modern systems?
Although it can be a little more expensive than other systems used for flat roofing, grp flat roofs are incredibly popular, thanks to their aesthetic appeal. Once the top coating is installed, the roof will have no unsightly seams. At the same time, it is also fully waterproof. It can remain looking fantastic even when exposed to the elements for many years.
The top coat covering also comes in various colours, allowing you to find the perfect option for your property. Our grp fibreglass roofing specialists guarantee a job to be proud of!
Please use our online contact form for quick free quotes.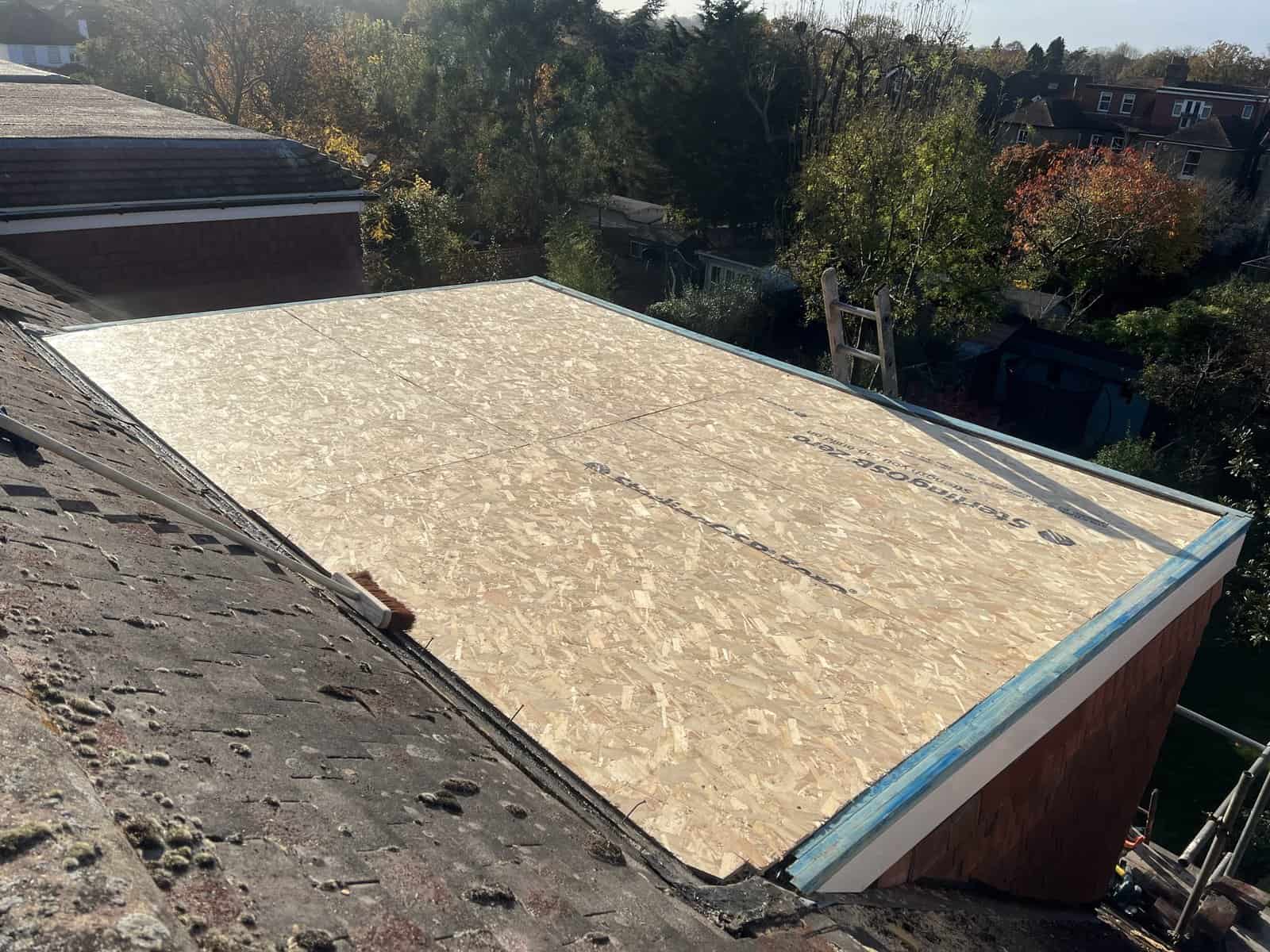 GRP Fibreglass Flat Roof Specialists
if you're looking for reliable and experienced GRP Fibreglass Flat Roof Specialists in London and Surrey, look no further than our team. We take pride in offering a range of top-quality roofing services built to last.
Our team of professionals are fully equipped to handle any roofing project, big or small. We only use high-quality materials and insulation, ensuring your roof is energy efficient and durable. With our 20-year guarantee on materials and workmanship, you can have peace of mind knowing that your roof is built to withstand the elements.
We offer a wide range of services, from repairs to total roof replacements. Contact us today for a free quote and see why we're the go-to roofing specialists in London and Surrey!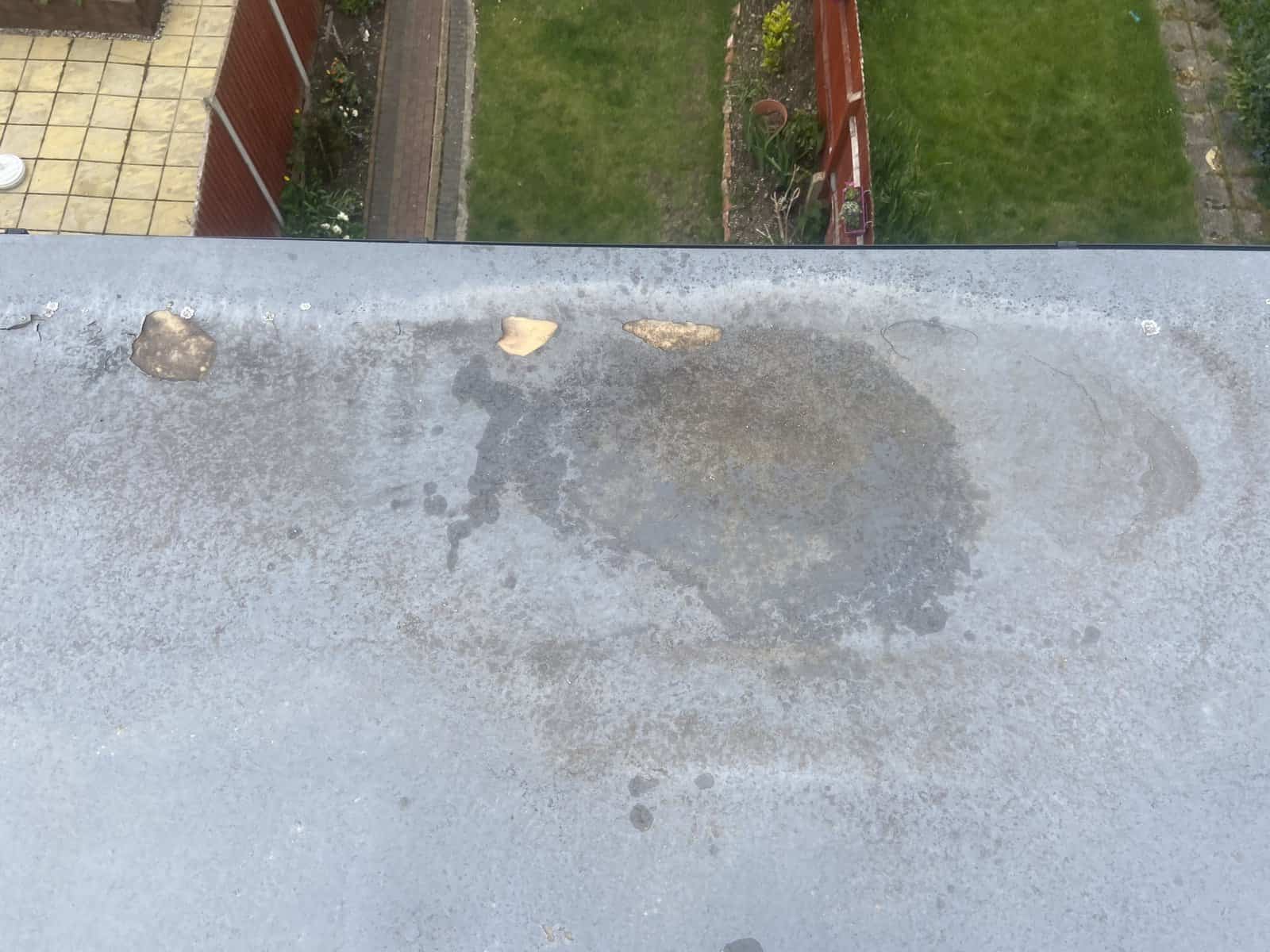 What about fibreglass roof repairs?
Fibreglass roofing is popular for flat roofs due to its durability and longevity. However, even the most well-constructed roofs can experience damage over time, resulting in cracking, and splits to the uv coating, which could cause a leak.
These issues can lead to significant water damage and costly repairs if left unchecked. That's why promptly addressing any problems with your fibreglass roof is essential. Our GRP roof repair service uses high-quality UV-resistant coatings to protect your roof from further damage and ensure long-lasting repairs.
We also offer replacement services for poorly installed roofs or those beyond repair. Don't let a leaky roof compromise your property's safety and appearance. Contact us today for expert fibreglass roof repairs or if you need your fibreglass roof replaced.
How much does a fibreglass flat roofs cost?

Although the typical grp cost is a little more than some other flat roofing systems on the market, the long-lasting and beautiful finish of GRP roofing makes it a worthwhile investment for your project.
As with all other roofing systems, the overall cost will depend on factors like roof size and the square meter of the surface area on your property and if more complex detailing is required.
Get in touch with our specialist team today to find out more. Or use our free quotation contact form above.
How long does it take to install a GRP roofing system?
Thanks to its rapid installation, a Fibreglass roofing system is a popular addition to both commercial and residential roofs. As the leading GRP/fibreglass roofing experts, our team guarantees efficient, high-quality installation or repairs. Depending on the weather and ambient temperature, the top coat coating can be cured to the touch within an hour.
GRP, fibreglass flat roof systems are virtually maintenance free
Thanks to its incredibly strong properties, it is very uncommon to experience any GRP flat roof problems. In fact, outside of some regular cleaning, you will rarely need a grp fibreglass roof repair or maintenance on your new roof. However, if something goes wrong and you require flat roof repair, our roofers can help you.
How long do GRP fibreglass roofs last?
Fibreglass flat roof systems on properties across Surrey and South London are incredibly popular, thanks to their long-lasting properties. When installed correctly, This roofing system has an expected lifespan of several decades without any measurable deterioration, ensuring your home looks fantastic and is protected from the elements.
Please use our online contact form for quick free quotes.
Benefits of GRP flat roofing systems?
One of the biggest benefits of fibreglass roofing in London is that it is incredibly durable. When correctly installed and maintained, it can last for several decades. The grp fibreglass materials used are also highly flexible so that they can be manipulated around any shape roof. At the same time, the joint-free finish ensures the roof build is a highly aesthetically pleasing solution.
If you would like to know more about the advantages of grp flat roofing, please don't hesitate to call.
What guarantee does Asgard Roofing have for their grp flat roofing system installs?
Here at Asgard Roofing, we are proud to be the grp roofing experts in Surrey. Our dedicated team has been working with property owners across Surrey and South London for over two decades, and we guarantee the highest quality materials and installation techniques possible.
All the components of our new work come with a ten-year, insurance backed guarantee, giving you complete peace of mind that should something go wrong, we will be able to fix it fast.
Do you need local roof repairs?
Asgard Roofing provides roofing services of the highest quality across London and Surrey locations, including new flat roofs in Wimbledon, Earlsfeild and raynes park. We carry out efficient grp flat roof replacements and grp roof repairs and seek out cost-effective solutions for all our customers but always maintain the effectiveness of our roofing.
If you want to discuss your fibreglass roof problem or require a free quotation on any of our fibreglass repair services, please get in touch with us.
GRP SERVICES WE PROVIDE
If you'd like expert assistance with your fibreglass roofing requirements, call the asgard roofing GRP team today. We can help you with all your projects, from small garage flat roofs to commercial flat roofs and repairs.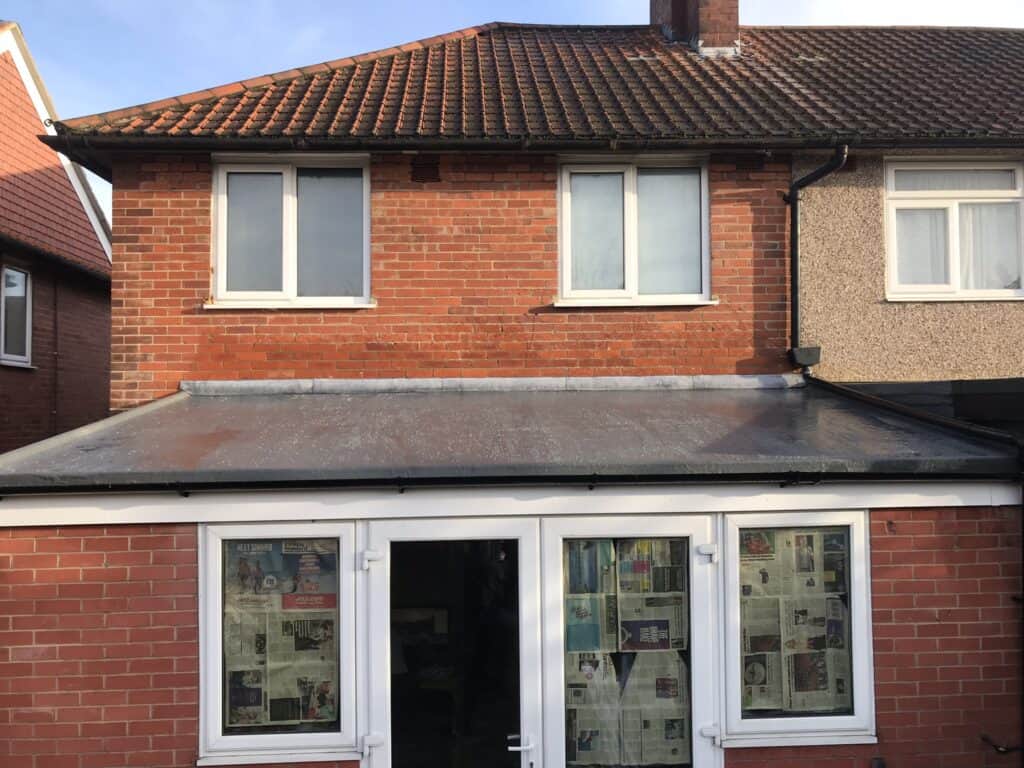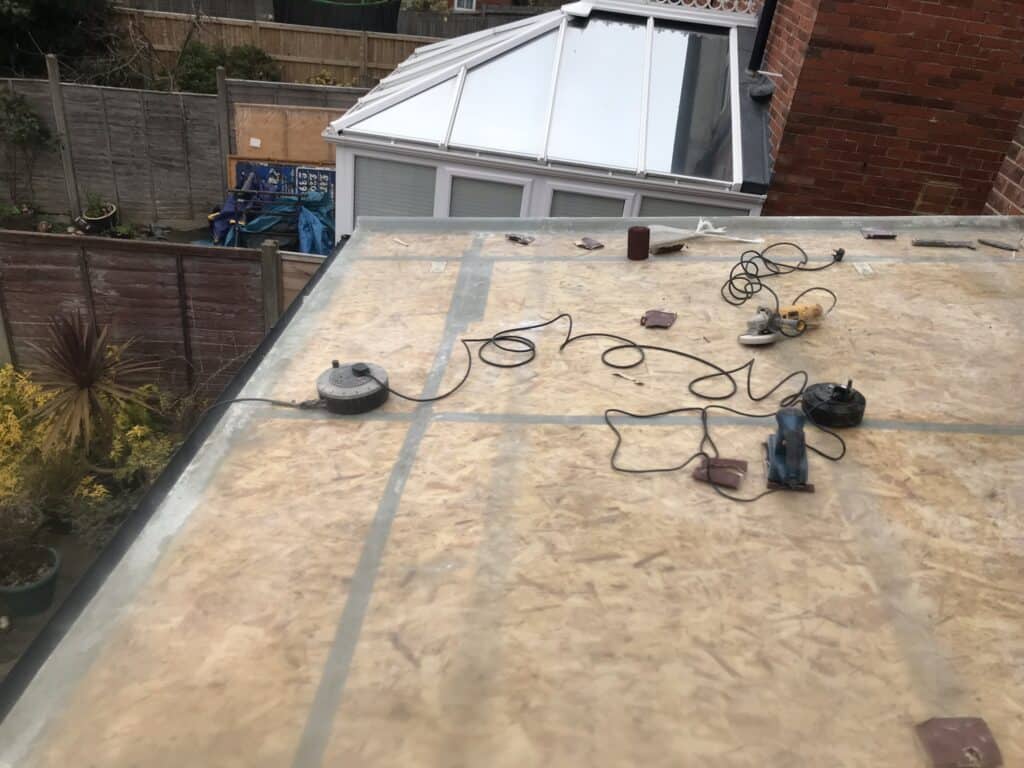 ---
FIBREGLASS FLAT ROOF FREQUENTLY ASKED QUESTIONS
Do you know why fibreglass roofs tend to crack easily?
Cracks can appear. This is primarily due to incorrect application on the fitting boards. As a rigid product, fibreglass is more susceptible to cracking when it's pushed or pressured.
Maintaining your fibreglass flat roof is easy and can be done by you, using soap, water and a brush or by jet washing the roof with low pressure.
Can grp fibreglass roofs be repaired?
Although we hope your fibreglass roof project never needs repairing, the simple answer is yes! Grp Fibreglass flat roofing is incredibly durable and resistant to damage and can face regular foot traffic and exposure to the elements. Should something go wrong or you notice a patch needs a repair. Our expert grp roofing team can quickly repair small spots or larger patches, ensuring your roof remains protecting your property.
So if you're looking for a fibreglass flat roofing company to repair or apply a coating of grp top coat, why not call your local contractors, asgard roofing today?
How do you clean a GRP fibreglass roof?
Regular cleaning is encouraged to ensure longevity and reduce the risk of fibreglass flat roof damage. Keep your roof looking and working as efficiently as the day it was installed.
Cleaning it with a simple mop and bucket once or twice a year is essential. While it is possible to use a pressure washer, the power and temperatures can impact the material's longevity.
UPFRONT PRICING WITH NO HIDDEN EXTRAS
What you expect to pay for
Experienced & vetted tradespeople
24 hour availability for all trades
Dedicated technical support team
Aspect Guarantee on workmanship
Peace of mind from trade accreditation
Parts and materials used
Transport & ULEZ Fees
What you won't pay for
Cost of parking
Fuel or travel time
Congestion Charges
OUR ROOFING WORK LOOKS AMAZING
We're confident that we have the best looking new roofing installations, roof repairs and guttering in South London. Our windows and skylights look great as well!




















OUR GOOGLE REVIEWS SPEAK FOR THEMSELVES!
reviews from our clients across South England
The work Ashard dod for us was excellent (guttering, soffit, felt roof) Tidy workers , punctual. Happy to recommend
I have been using Shane for a variety of roofing repairs and guttering. Work is to a very high standard. He is very clean and tidy, taking the rubbish away when he finishes. He is 100% reliable. Very nice guy and personable. Charges an honest price for the job. If something can be repaired rather than replaced He will tell you.
Excellent workmanship also installed new felt flat roof to my rear extension they were very thorough with making sure every aspect of my roof was working to help prevent any future problems from happening would 100% recommend 👍
Outstanding – Sean provided an excellent service from quote to completion. The complete re-roof of the house looks amazing, the level of skill and work that went into it clearly shows. Sean was also willing to go above and beyond, helping me out on a couple of additional projects I had asked for help with. Genuine and nice people to have working on your house. It's almost a shame I don't have another roof for them to work on!
Shane fixed the issue promptly and provided guidance to prevent it recurring. Polite, friendly, responsive and punctual. Highly recommend.
Again quick response and job done..thank you!
Brilliant service..gust of wind took part of guttering etc off top floor..rang Shane..he was round within an hour and all fixed within another..huge peace of mind. Would definitely use again and can highly recommend.
By choosing Asgard Roofing, you will be working with fully insured roofers with over 20 years' experience and a superb track record that reflects our core values:
Customer commitment
With quick response times and hassle-free communications, we aim to put the trust back into the roofing trade by building trusting relationships with all our customers.
Honesty and fair pricing
Providing a personal service with a commitment to integrity never using salesman techniques, just providing solutions on the work that needs doing at a competitive price that is hard to beat.
Workmanship done with pride
You never need to worry about compromising quality with us. Using only the best in materials and manufacturers and install by us like we were working on our own homes.
Asgard Roofing are fully affiliated and proud members of Checkatrade, click here to view our full profile and our 10/10 reviews.
A Roof Contractor You Can Count On
Asgard Roofing is a family run business, with three generations of roofers working within its ranks. Being Morden based we have been working proudly and successfully within the communities of South London, & Surrey for many decades.

We are proud to be fully affiliated with CORC confederation of roofing contractors this allows us to provide insurance backed guarantees of on our work. We are also proud members of Checkatrade, this is a great place to see our genuine customer reviews.

We take pride in our comprehensively creative and flexible approach to the services we provide. From simple periodic maintenance to urgent repairs and complete roof replacements, we'll do what it takes to exceed your expectations at a price you can afford.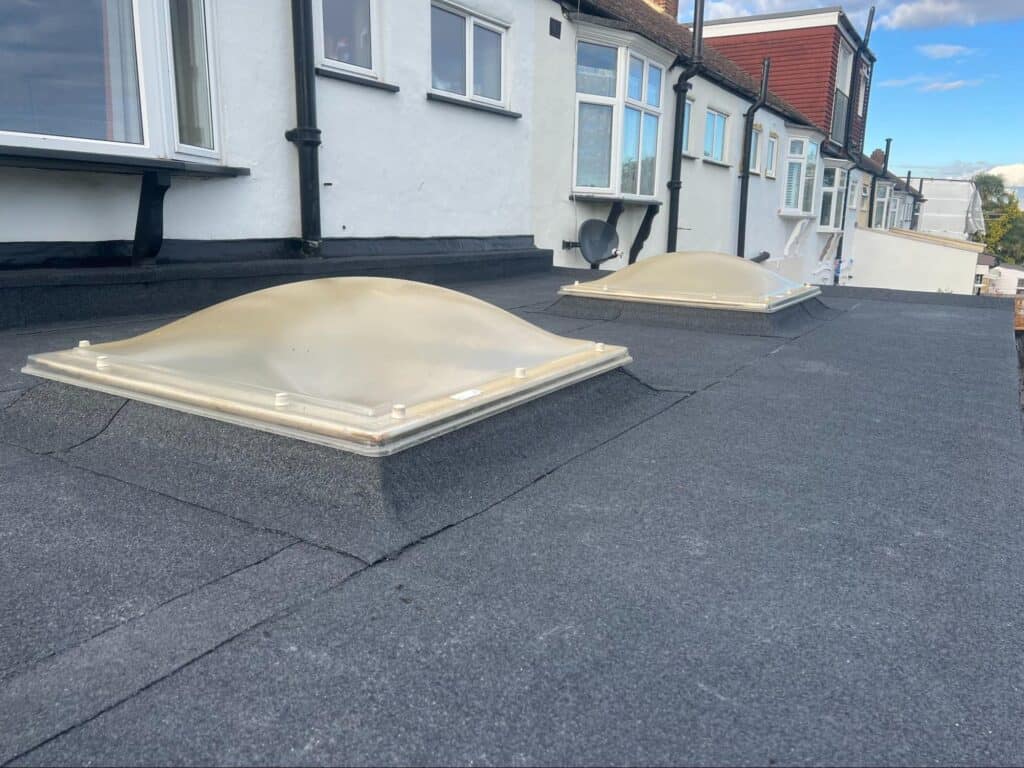 roofing services for south london and surrey
Asgard Roofing work with both residential, commercial and industrial customers in areas such as Morden, Wandsworth, Epsom, Tooting, Croydon, Dorking, Chessington and Clapham, to name a few.
We cover all aspects of roofing and all our work is carried out by our in-house tradesman that always work within the BSI standards.
Get in touch
Do you need roofing services or roofing solutions? Let's work together on your next roofing project!
Covering Surrey and South London
Mon – Sat: 8am-6pm | Sun: Closed
LOOKING FOR SOMETHING ELSE?
Check out these service pages or use the menu above to view all services