Flat Roof Replacement & Repair | Free Advice from Trusted Roofing Contractors
Replacing your flat Roof can be a smooth endeavour. With Asgard's comprehensive flat roof replacement guide, you'll quickly learn about the types of flat roof materials available, what average flat roof replacement costs are, finding reliable roofing contractors and when it's time to replace your entire Roof.
You will learn about Popular flat roof options, including asphalt, a bitumen material, and EPDM rubber, a rubber membrane that is very resistant to weather damage. Fibreglass/grp roof can also be used and has a huge life expectancy if installed correctly. At the same time, torch on felt is an inexpensive option that will require heat to apply but can require regular maintenance if not installed correctly or budget materials have been used.
Check out Asgard Roofing's flat roof replacement guide for more information on flat roof replacement costs, the best flat roof material for your budget, and the best way to get started on replacing a flat roof you.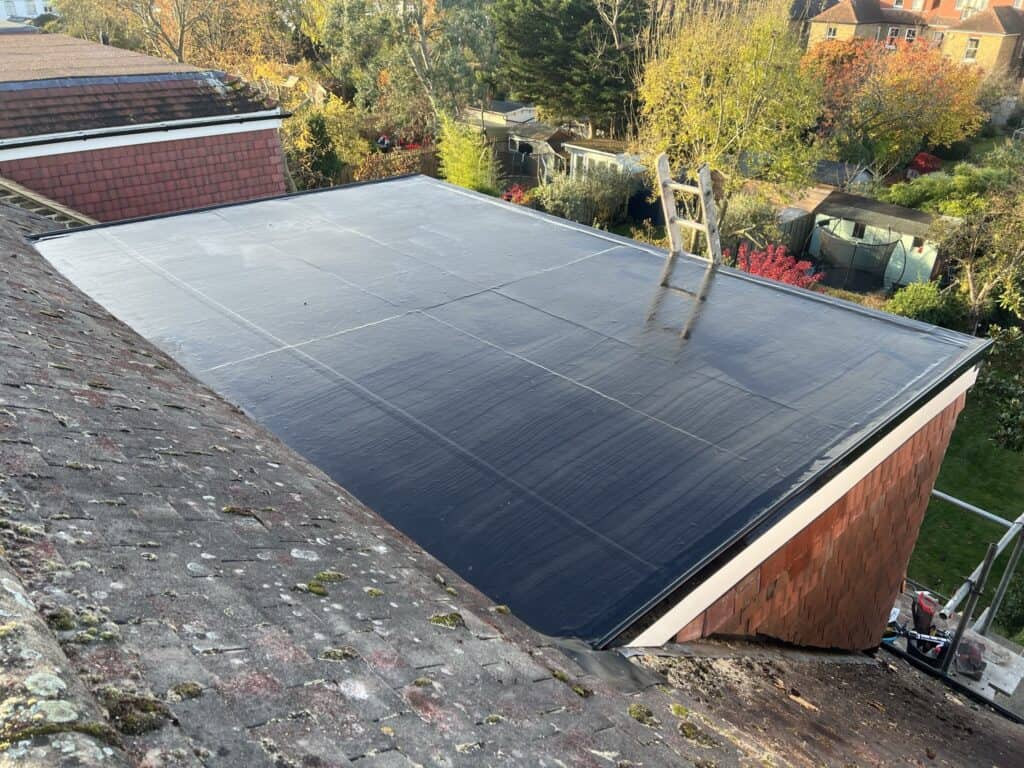 Flat roof materials
A huge range of flat roofing materials and flat roofing systems can be used when replacing an old flat roof. A Rubber roof or single ply flat Roof is incredibly durable, with a life expectancy of 50 years when installed correctly by a professional roofer. Yet, the membrane is flexible and light enough to be worked with. The installation process is incredibly easy if you know how to.
A torch on felt flat roofing system is a good option for a classic look, primarily when used with a charcoal coloured cap sheet. It's typically lightweight and the most cost effective way to protect a flat roof for many years.
A Fibreglass roofing material is another popular choice for London homeowners and commercial property owners as it's very strong and highly watertight thanks to the hard coating, built up layers, and no seems.
Alternatively, liquid rubber waterproofing systems can be applied quickly over many different types of surfaces for a longer lasting finish and benefits from being almost instantly waterproof upon application – making them an ideal solution for flat roofs of all sizes.
WHY CHOOSE EPDM FLAT ROOFING FOR YOUR PROPERTY
EPDM Rubber Roofing is a suitable choice for a strong and reliable flat roofing system. A high grade EPDM membrane or single ply membrane provides excellent coverage for any flat roof project, including flat roofs on sheds, garages, outbuildings and extensions.
EPDM flat roof material is easy to install with the correct knowledge and experience. These membranes are a great option for making a new roof. It is incredibly durable and long-lasting, so it will not require repairing or replacing so often. In addition, you are saving time and expense in maintenance, unlike conventional flat roof materials, like felt and asphalt.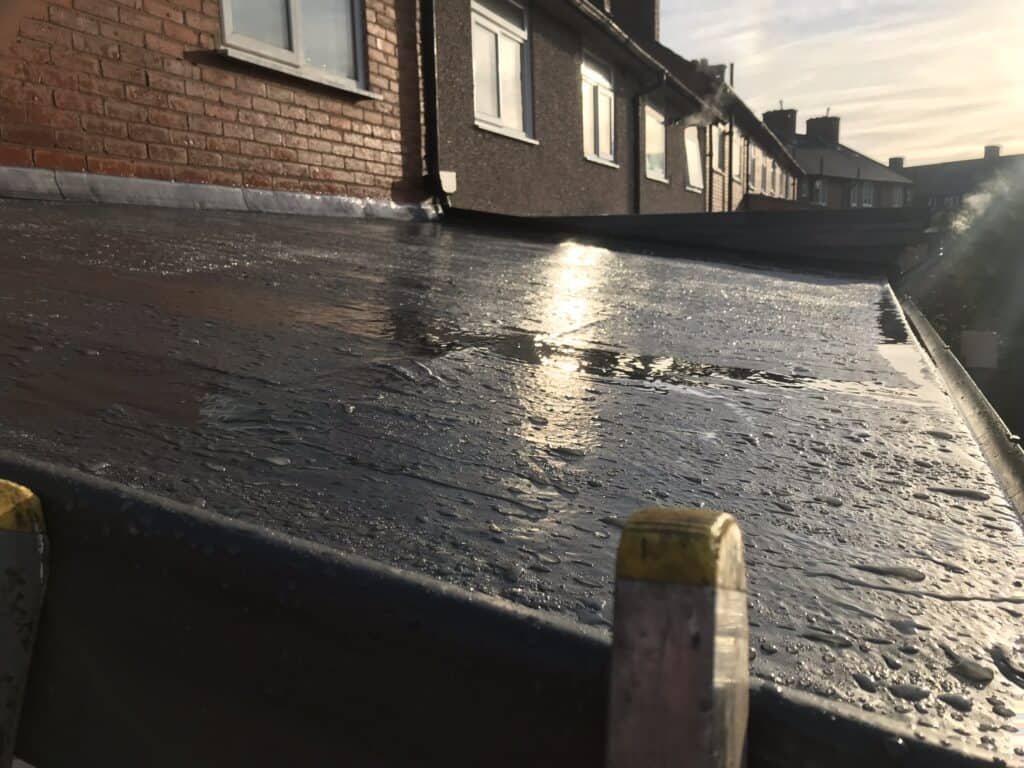 LONG-LASTING FLAT ROOF REPAIRS
EPDM rubber membranes have many benefits and are one of the most versatile industry materials known and is suitable for use on a new extension roof or even a double garage or shed.
Old flat roofs covered with cheaper alternative use felt and will always require a good amount of maintenance and repairing in their lifetime and may require replacing if they fail beyond repair to meet the requirements of an effective roof.
Flat roofing maintenance costs can be lower with EPDM rubber roofing materials, which companies like FlexiProof and Firestone manufacture.
Flat Roof Replacement Cost
What is the price for flat roof cost for replacements and flat roof repair cost in London and Surrey?
Depending on the square metre of the whole Roof, it'll cost between £2000 and £6000 per Roof change. Replacement cost for flat roof costs vary depending upon the flat roof material chosen, the square metre of the structure, the roof surface chosen and if the roof timbers below are rotting.
Expect additional costs if you choose to use insulation, have new gutters installed or have not kept up with essential maintenance and the necessary repairing to your flat Roof over the years. This will make the project more work intense with higher labour costs, extra material charges and higher costs for removing waste materials.
Repair costs will range from £150 for sealing leaks and up to £500 if lead flashing need renewing, but the cost will always depend on the size of the repair.
Always seek professional advice from a reputable roofer.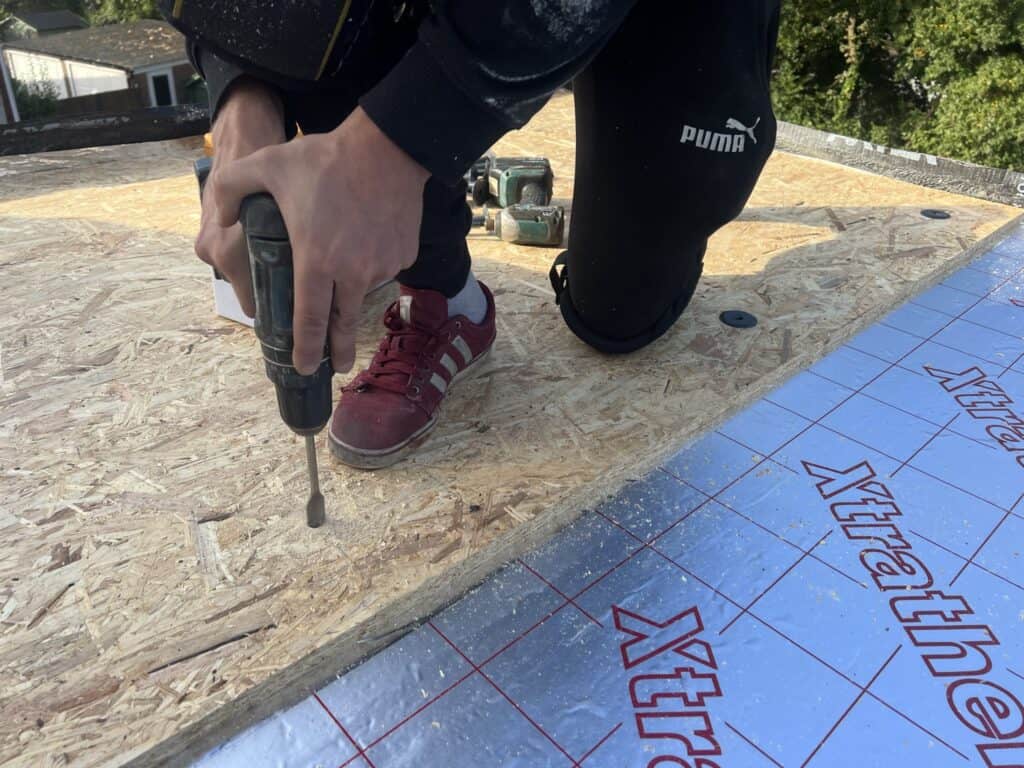 garage roof replacement costs
Regarding garage roof replacement costs, the cost can vary depending on the type of materials needed and the size of your garage. Here at asagrd roofing, we help our customers save money where they can. Inspecting timbers underneath a garage roof can identify any further damage that needs tending before installing a new garage roof. This can save you money in the long run by avoiding the cost of replacing them and the Roof again! later down the road.
We always will take the time to check for any potential repairs and bring it to our customers attention so that they are aware and not overcharged when it comes time for installation repair or replacement part.
How do I know if my flat Roof needs replacing?
Knowing when your flat Roof needs replacing is key to protect your home or business from the elements. A simple visual inspection can help you determine whether or not it's time for a replacement. Look for damage such as cracking, discolouring, seal damage, and ponding water along the guttering. If these are present, calling an expert for further advice is recommended. An expert will be able to inspect the multiple layers of material and drainage system beneath your flat Roof and any underlying wood surfaces.
Replacing an old asphalt or felt flat Roof earlier than necessary could save you money in the long run – so relying on an expert may be worth it if you suspect any underlying damage.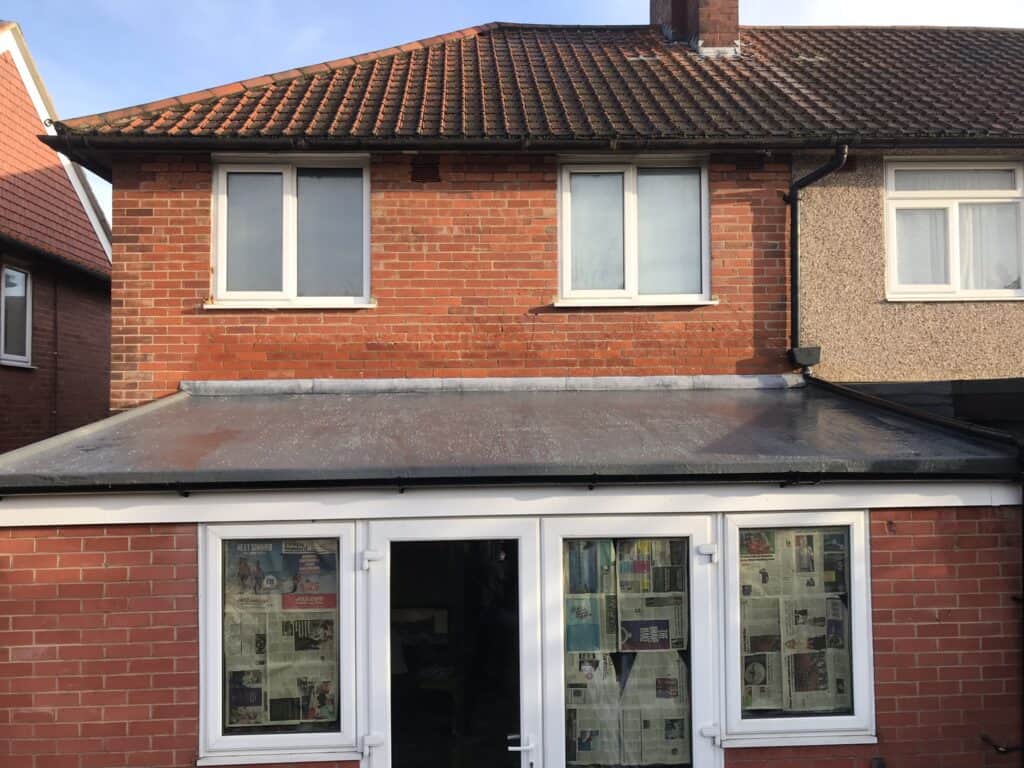 Tell me the difference between flat roofs.
All properties across England have a common characteristic – flat roofs. Usually, flat roofs are viewed as flat, but the pitch makes them relatively flat, so rainwater can flow quickly through them. It should be avoided that water pools can accumulate on flat roof surfaces, which causes a constant break-up or destruction of the bitumen roof layer material.
A flat roof is commonly found on remodelled extensions, garage, doorways, balconies, carports, or outside structures. They are a good option to save money and have some flexibility.
Benefits of Flat Roof
Flat roofs have many benefits, making them a very popular choice for residential and commercial construction. One layer of protection on a flat roof helps reduce the energy costs. It can also add layer of security if properly installed. Regarding insurance, most providers recommend flat roofing since it affords higher protection against leaks.
Proper installation and material selection can also help improve the insulation in a structure which may be beneficial from both an energy-saving standpoint, as well as the comfort of occupants.
Further, flat roofs tend to be easier and cheaper to repair than other types of roofing due to their simple design, meaning that you get the most bang for your buck when selecting the best material for your needs.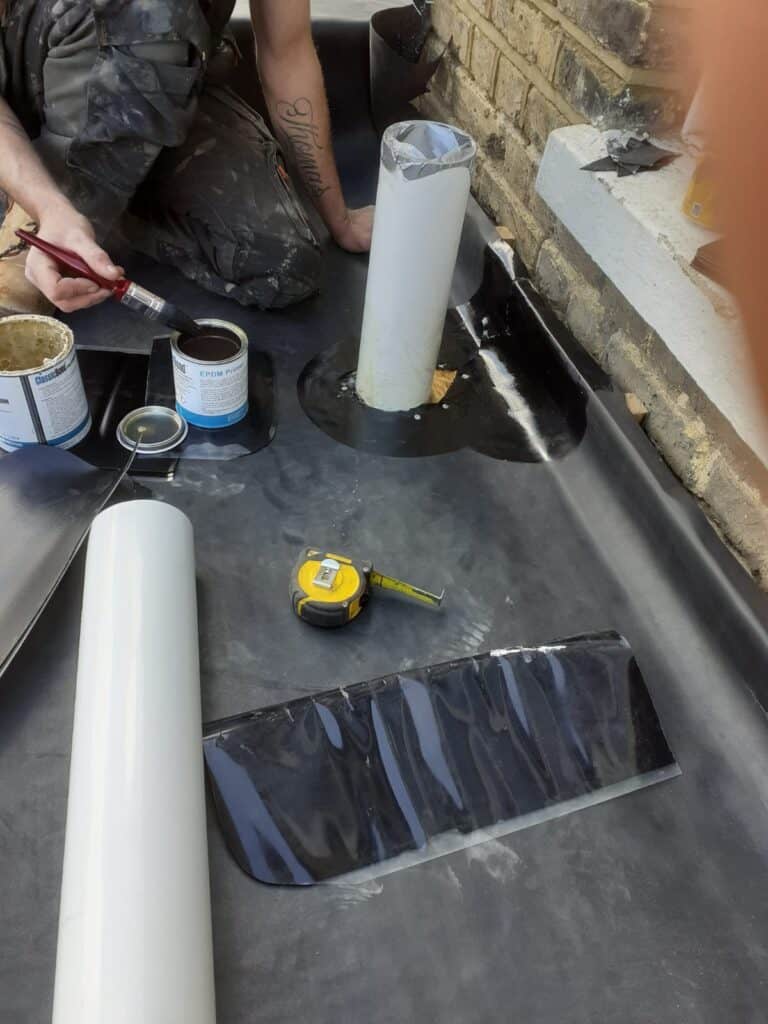 HEAT-FREE EPDM ROOFING INSTALLATIONS
A significant advantage of using EPDM roofing membranes with flat roofing repairs or replacements is the ease of the installation process, as they can be easily transported. Traditionally flat roofing material like felt requires heat to bind. Using the blowtorch to install a roof yourself is dangerous and time-consuming.
What is the longest lasting flat Roof?
Flat roofs have been a cost-effective and efficient roofing solution for centuries. While many materials can be used to construct them, some are far more durable than others, with the longest lasting flat roofs boasting up to 50 years of service life. One of the key secrets to this longevity is regularly maintenance of its covering layer.
Most experts agree that EPDM (ethylene propylene diene monomer) , GRP (glass reinforced plastic or fibreglass) and lead will stand the test of time. Investing in quality materials now will cost more upfront but ultimately give you a much better value in the long run!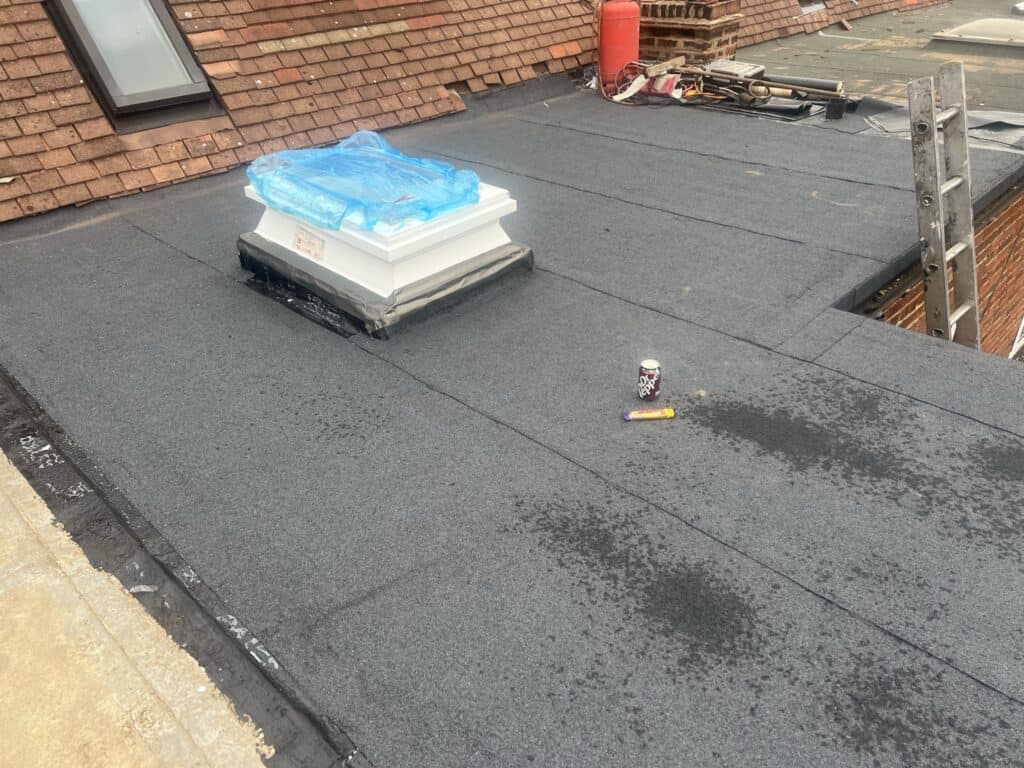 Can you put the new felt over the old felt on a flat Roof?
Yes, it can, and you must press the new felt into place over the existing felt Roof. It is essential to first prime the entire area of the existing felt to allow the new felt to adhere to the old. It's the only possible way to ensure a bond between the felt pieces.
What's involved in replacing a flat roof?
Replacing a flat roof typically involves a range of tasks, from making a complete replacement to making a few simple repairs. If the damage is beyond repair, a new roof may be necessary. Fortunately, suppose you choose a company to repair or replace the Roof. In that case, they can assess the state of your flat Roof repair cost and provide an easy way to determine what needs to be done.
Generally, scaffolding is necessary in order to reach a flat roof and scaffolding can take a bit of time to set up, but minimal disruption should be expected otherwise. Once the work is complete, you're sure to have a reliable and more durable roof that will last years into the future.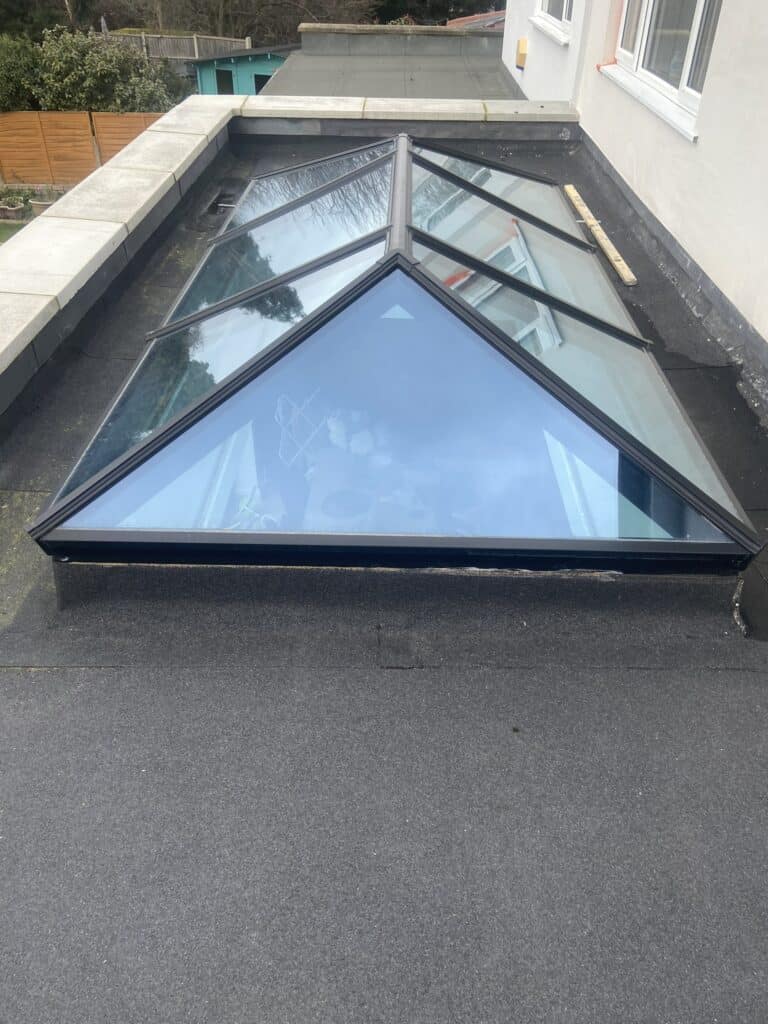 Can I replace my own flat Roof?
Since fitting involves using a naked flame when using a torch on, felt it can sometimes seem risky to do DIY flat roof installation yourself without adequate instruction. Most think that hiring an experienced flat roofing contractor is best.
Can I do a flat Roof repair myself?
When sudden roof leaks appear, the quick response may be to want to do the repair yourself. While it is possible to do a flat Roof repair yourself, depending on the situation and other roofing material used, hiring a professional roofer for the job is generally easier and more cost-effective.
Hiring a local roofer can have numerous benefits, such as ensuring that all cracks and sudden leak points are covered on your flat Roof, saving you from potential replacement costs if you make any mistakes. While DIY repairs are possible options for some flat roofs, hiring an experienced professional will ensure the repair job is secure and long lasting.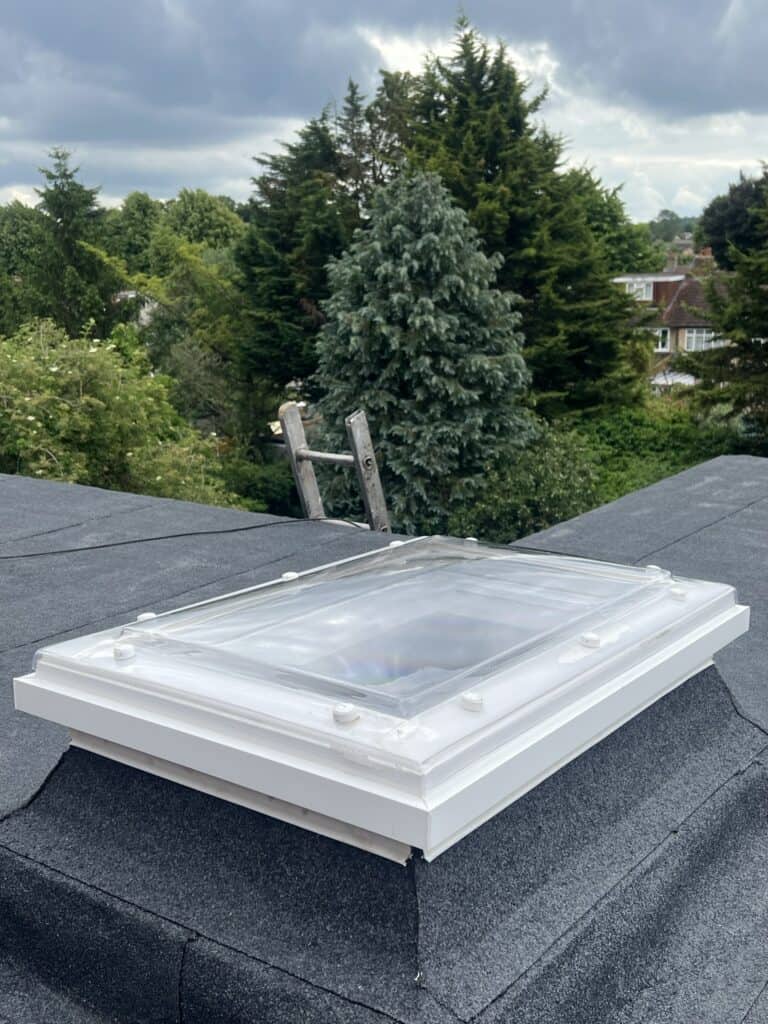 What can you replace a flat roof with?
Removing your old flat roofing system and replacing it with the latest EPDM rubber roofing is a trendy solution because of its durability, easy installation and longer lifespan. EPDM installation has no seams, meaning water can't seep through seams and damage the Roof.
How often should the Roof felt be replaced?
Bitumen heat on Roof felt should be checked periodically, as with any roof, as it can save homeowners from a more severe and costly repair project down the road. We have installed tons of felt roofs that have lasted well over twenty before they need to be replaced.
If you want to know if your Roof needs replacing, look for signs such as pooling water, rotten timber, sagging, or air bubbles – these could indicate leaks and will require the removal of the old Roof felt.
Additionally, if you are still determining whether your Roof needs to be replaced, look for darker areas besides pooling water and leaking, as these may indicate that it is no longer sufficiently protecting your home. Taking the time to check and regularly replace when necessary is vital in maintaining a safe roof that efficiently protects your home.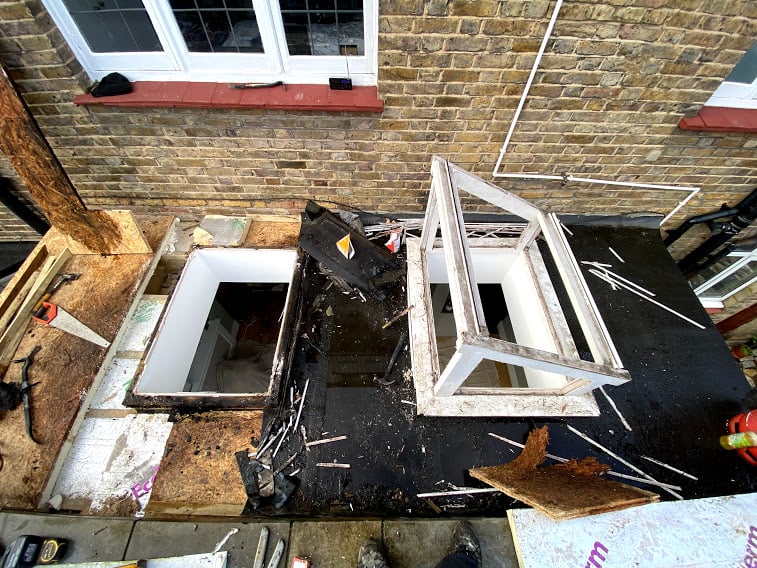 How Long Does felt last on a flat roof?
Some bitumen felt roofing systems will last twenty plus years but only if maintained correctly. A bitumen Felt Roof that's heated on is the most cost effective choice and makes an attractive flat roof with a charcoal top layer sheet and drip edges.
Can you replace a flat roof yourself?
The fitting of the multiple layers on a bitumen felt Roof involves naked flames. It may cause dangerous failures unless the installation team receives the proper training for the job. Leaving this work in the hands of a professional is the safer choice – it depends upon your expertise.
A rubber single ply membrane system is the easiest to be installed. Still, to install it we recommend you take an introductory training course to learn the basics. There are many training centres, and they can be found easily on Google. we send all our apprentices here EPDM Rubber Roofing Training Courses – Rubber Roofing Direct
A GRP (glass reinforced plastic), or fibreglass as its commonly known, is a flat roof installation and is probably the most difficult to do, be aware of its easy to paint on layers.
Our offices are contacted daily by homeowners reporting they have had a freshly laid GRP flat roof installed by builders or roofers without the correct knowledge and is now failing.
Even with basic training, many factors are still to consider when installing a fibreglass or flat roof project, such as weather, prep stages, and solution mixing.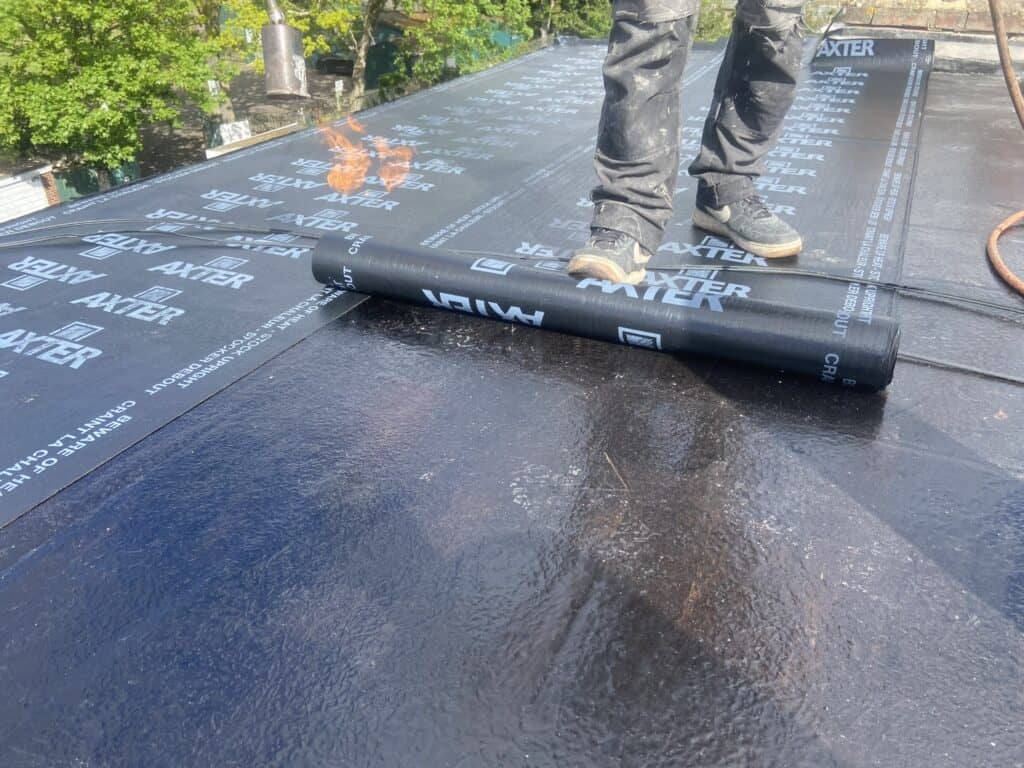 What flat roofing materials are best for a flat roof?
Regarding flat roofs, a single ply rubber membrane is the most popular flat roofing material used by many homeowners in London. EPDM is short for ethylene propylene diene monomer and is commonly known as a rubber, single ply flat roof.
This material does great against everyday weather conditions and provides long lasting protection and makes for an easy flat roof repair should it be needed.
Heat-on felt has also become very popular for flat roofs as the charcoal mineral finish is a reliable and more cost effective option when compared to single ply rubber or fibreglass.
Fibreglass/GRP is often used for suburban residential areas due to its high performance properties. Lastly, liquid waterproofing is now considered an alternative flat roof solution. It shows great potential and promises durability at a lower price.
Looking For A Qualified Roofing Company?
When looking for a roofing company, reviews and recommendations from past customers can provide insight into the quality of work you can expect. It's a good idea to find out about their previous projects and the level of experience they bring to the table.
Additionally, you can check online directories to find credible roofers near you. With reviews and personal recommendations, you can decide on finding a qualified roofing company that meets your needs.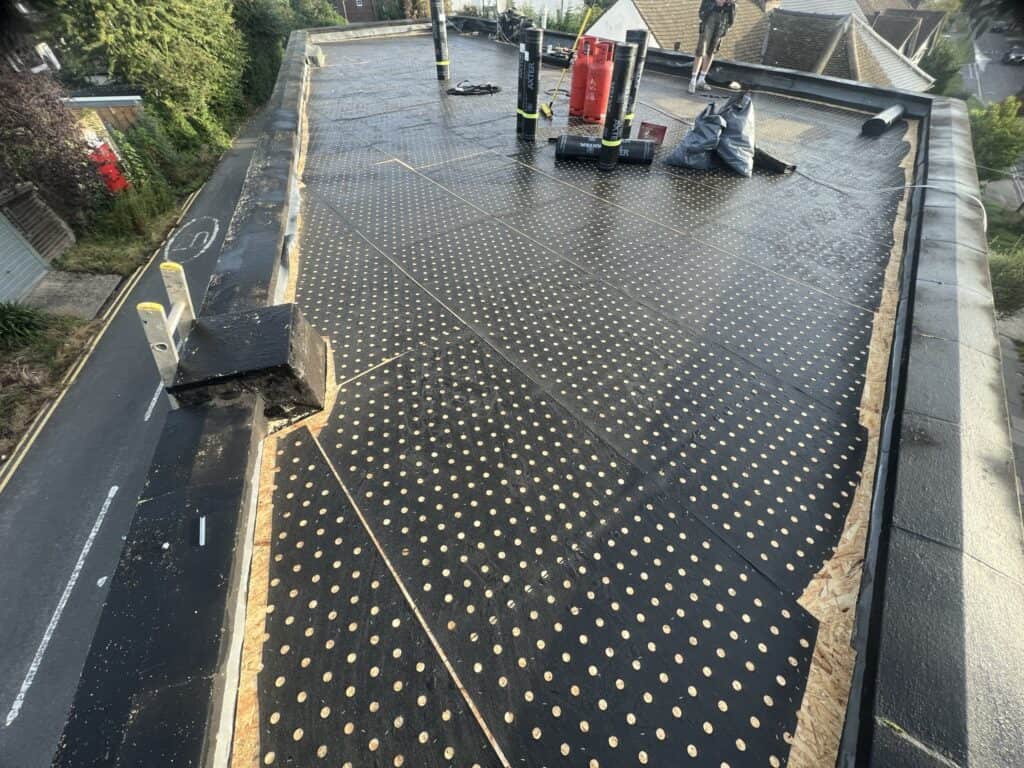 Hiring Someone to Replace a Flat Roof Checklist
If you've decided it's time to replace your flat Roof, the following steps should be done carefully. With so many contractors to choose from, reviews and recommendations are going to be your best resources – they can provide insight into a contractor's ability to get the job done right.
Remember to look at the quality of their previous work as well; this is a great way to assess how much experience they've had in working with roofs of similar types and complexities.
Additionally, online directories like checkatrade can be extremely valuable resources that may provide reviews from others who have hired them.
Taking the time to do your research will help ensure you find the perfect contractor for replacing your flat Roof and getting the job done right!
How Long Will Replacement Take?
It's essential to be prepared for flat roof replacement – how long it takes largely depends on the removal of the existing timber decking and Roof covering, as well as any underlying rotting wooden struts beneath it.
From my experience, the most difficult part is ensuring that all removal and fitting of the new flat roof material is done precisely and in time before any rain.
I advise anyone undertaking this work to begin by tidying up their workspace – clear away any garden waste, furniture or debris from beneath the existing wooden Roof structure well before removal to ensure an efficient and watertight result.
What defines a flat roof?
A flat roof is a roofing system nearly level with a slight pitch (but not completely flat), unlike other sloped roof types. For a roof to be called flat, the flat Roof requires a pitch of no less than 7° degrees.
Tiled pitched roofs can go down to a pitch of 12 degrees with the correct tiles for such a low pitch. A flat roof won't have tiles or slates used to cover the entire roof area and will use a flat roofing system and sometimes lead.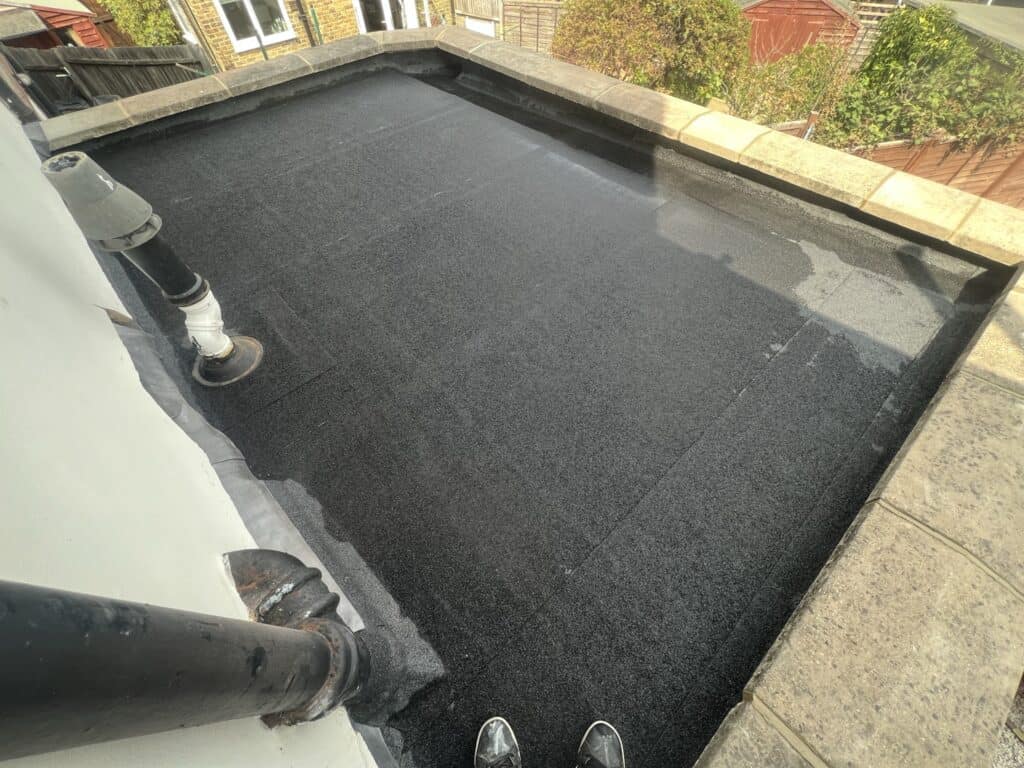 A few factors when Inspecting your Flat Roof
When inspecting your flat Roof, signs of dampness and leaking should be your first concern; if left unrepaired, these can quickly cause more severe and expensive damage. It would help if you also looked for signals of poor roof timbers. If you have rotten timbers, some of the timber decking will also need replacing or repaired.
New standing water will indicate that the flat roofs timber deck is wet and sunken. If you discover rotten timber or need help determining what to look out for and cannot inspect your flat Roof yourself, why not call Asgard Roofing? We offer free professional inspections and can provide a quick estimate, so you can rest assured that any problems are resolved, saving you time, money and hassle.
Inspection of Wear, Punctures, Splitting, Cracking, Blistering & Stretching
Installing a flat roof system on your property brings unique challenges. One of them is that a flat roof and its flashings require more care and attention than alternative pitched roofs, typically meaning you need to watch for any warning signals that it could be time to replace it.
Punctures in the surface, splitting, cracking, blistering and stretching of the material are common signs that your flat Roof is failing.
If you have noticed water pooling, have wet patches and found damp spots inside the property then these too can signify that your current flat Roof needs looking at. Don't leave it too late for your wooden roof structure to rott- if any of these signs present themselves – consult a professional right away who will be able to assess whether you need a flat roof repair or a new flat roof is required.
TALK TO OUR flat ROOFING SPECIALISTS
Asgard Roofing is proud to be the local roofing contractor for flat roofing solutions. With over 25 years of experience, our friendly specialists provide free advice and quotes so you can feel confident in finding the best roofing system solution for your needs.
We use only the highest quality roofing products and materials that stay up-to-date with the latest advancements in flat roofing technology, so you can trust that your investment will be taken care of.
Contact our team to learn more about how we can help you find the perfect solution for your flat Roof and a free quote today!
the flat roof systems & roof repairs we can help you with
grp flat roofing green roofs
pitched roof repairs EPDM roof
lead roof single ply flat roofs
rubber roofing fibreglass roof
UPFRONT PRICING WITH NO HIDDEN EXTRAS
What you expect to pay for
Experienced & vetted tradespeople
24 hour availability for all trades
Dedicated technical support team
Aspect Guarantee on workmanship
Peace of mind from trade accreditation
Parts and materials used
Transport & ULEZ Fees
What you won't pay for
Cost of parking
Fuel or travel time
Congestion Charges
OUR ROOFING WORK LOOKS AMAZING
We're confident that we have the best looking new roofing installations, roof repairs and guttering in South London. Our windows and skylights look great as well!




















OUR GOOGLE REVIEWS SPEAK FOR THEMSELVES!
reviews from our clients across South England
The work Ashard dod for us was excellent (guttering, soffit, felt roof) Tidy workers , punctual. Happy to recommend
I have been using Shane for a variety of roofing repairs and guttering. Work is to a very high standard. He is very clean and tidy, taking the rubbish away when he finishes. He is 100% reliable. Very nice guy and personable. Charges an honest price for the job. If something can be repaired rather than replaced He will tell you.
Excellent workmanship also installed new felt flat roof to my rear extension they were very thorough with making sure every aspect of my roof was working to help prevent any future problems from happening would 100% recommend 👍
Outstanding – Sean provided an excellent service from quote to completion. The complete re-roof of the house looks amazing, the level of skill and work that went into it clearly shows. Sean was also willing to go above and beyond, helping me out on a couple of additional projects I had asked for help with. Genuine and nice people to have working on your house. It's almost a shame I don't have another roof for them to work on!
Shane fixed the issue promptly and provided guidance to prevent it recurring. Polite, friendly, responsive and punctual. Highly recommend.
Again quick response and job done..thank you!
Brilliant service..gust of wind took part of guttering etc off top floor..rang Shane..he was round within an hour and all fixed within another..huge peace of mind. Would definitely use again and can highly recommend.
By choosing Asgard Roofing, you will be working with fully insured roofers with over 20 years' experience and a superb track record that reflects our core values:
Customer commitment
With quick response times and hassle-free communications, we aim to put the trust back into the roofing trade by building trusting relationships with all our customers.
Honesty and fair pricing
Providing a personal service with a commitment to integrity never using salesman techniques, just providing solutions on the work that needs doing at a competitive price that is hard to beat.
Workmanship done with pride
You never need to worry about compromising quality with us. Using only the best in materials and manufacturers and install by us like we were working on our own homes.
Asgard Roofing are fully affiliated and proud members of Checkatrade, click here to view our full profile and our 10/10 reviews.
A Roof Contractor You Can Count On
Asgard Roofing is a family run business, with three generations of roofers working within its ranks. Being Morden based we have been working proudly and successfully within the communities of South London, & Surrey for many decades.

We are proud to be fully affiliated with CORC confederation of roofing contractors this allows us to provide insurance backed guarantees of on our work. We are also proud members of Checkatrade, this is a great place to see our genuine customer reviews.

We take pride in our comprehensively creative and flexible approach to the services we provide. From simple periodic maintenance to urgent repairs and complete roof replacements, we'll do what it takes to exceed your expectations at a price you can afford.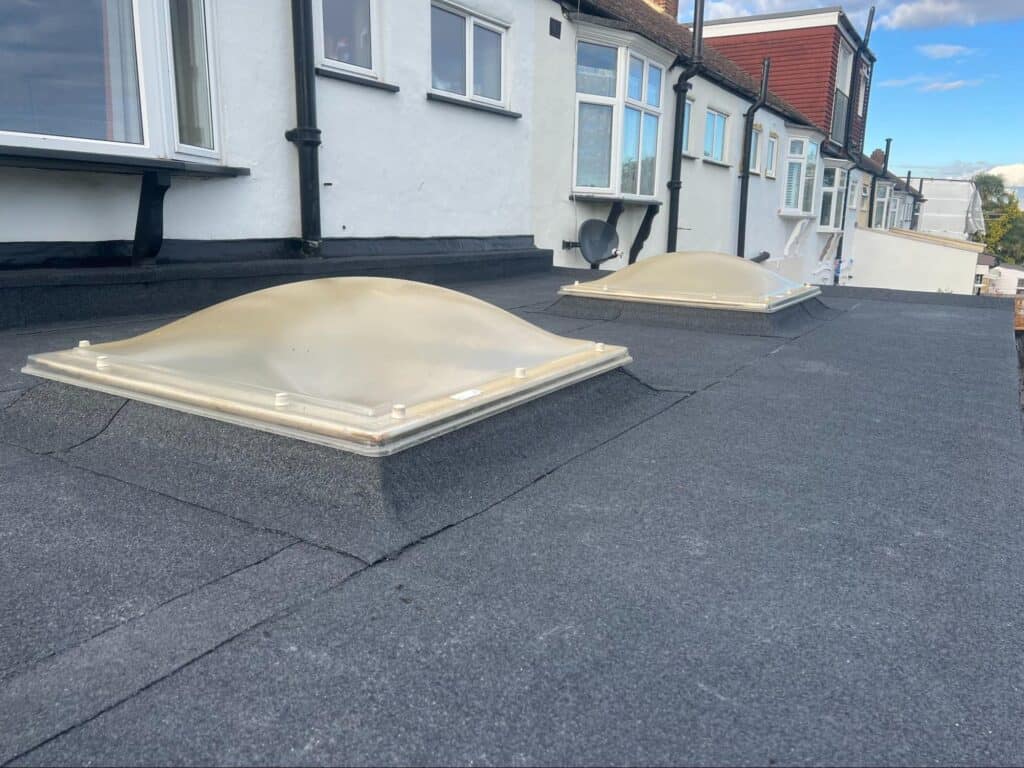 roofing services for south london and surrey
Asgard Roofing work with both residential, commercial and industrial customers in areas such as Morden, Wandsworth, Epsom, Tooting, Croydon, Dorking, Chessington and Clapham, to name a few.
We cover all aspects of roofing and all our work is carried out by our in-house tradesman that always work within the BSI standards.
Get in touch
Do you need roofing services or roofing solutions? Let's work together on your next roofing project!
Covering Surrey and South London
Mon – Sat: 8am-6pm | Sun: Closed
LOOKING FOR SOMETHING ELSE?
Check out these service pages or use the menu above to view all services